Happy Monday, everyone! This Monday, I truly am happy. VERY happy. Not only because it's Halloween this weekend, but also because this morning I saw on Twitter that Twenty One Pilots is heading out on tour again for the EMOTIONAL ROADSHOW of Summer 2016!
Last month I was lucky enough to see TOP at their hometown show in Columbus, Ohio. It was an incredible, albeit very painful show. Let me tell you, the hometown pit for TOP is NO JOKE. I ended up with a multitude of bruises and body aches the next day from getting pushed around so much. However, it was 100% worth it to hear "Car Radio" performed live - I may have cried. A lot.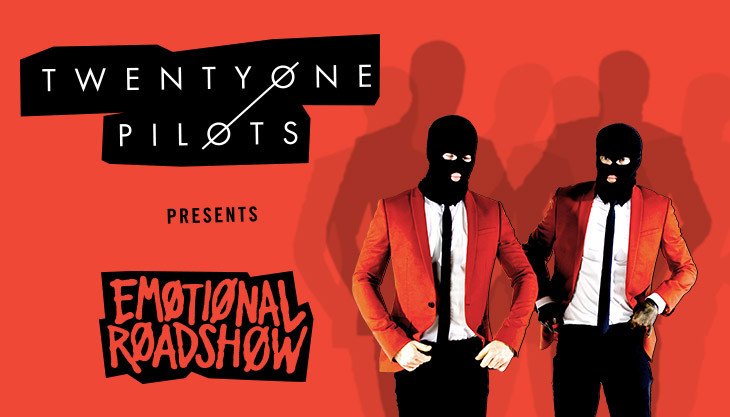 If you aren't as excited as I am about this announcement, you probably haven't listened to Twenty One Pilots before. In that case, I highly recommend you check out their newest release, "Blurryface," that came out in May 2015. "Blurryface" is by far my favorite album released in 2015, close only to Halsey's "Badlands" and Dillon Francis's "This Mixtape Is Fire." Also be sure to tune in to Bad Dance Moves tonight at 10 PM to hear Jess and I freak out over EMOTIONAL ROADSHOW; we will keep you posted as soon as we hear who TOP's support will be for the tour as well!